The New York Small Scale Food Processors Association (NYSSFPA) supports and informs small-scale food processors through education, mentoring, marketing, and connections to the industry, and provides the resources to manage the challenges faced by processors in establishing and growing their food business.
From the NYSSFPA newsletter:
We all know we're not supposed to judge a book by its cover, but many of us can't help doing it anyway. That mentality, of course, extends to people, restaurants, products, and virtually everything around us. The bottom line: looks matter. And when consumers are buy-ing wine, candy, chocolate, and other specialty foods, looks come down to the label. That makes the look and feel of a food label extremely im-portant for manufacturers, said Alicia Baker, a marketing rep-resentative for ImageTek Labels, a company that manufac-tures custom labels and other printed materials.
See the Fall 2015 newsletter for more information
This is what the NYSSFPA provides:
Access to new regulatory information
Mentors for startups
Member Information
Technical Information and assistance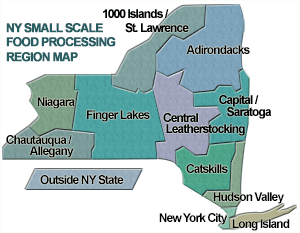 The NYSSFPA
is made up of 11 Regions across New York State, including New York City and Long Island.

Please click on the map to find contacts in your area.
Or you can locate a member or processor by region or product on our
Member Search page
or by using the drop down menu below.