The New York Small Scale Food Processors Association (NYSSFPA) was formed to support and inform small-scale food processors through education, mentoring, marketing, and connections to the industry. To provide the resources to manage the challenges faced by processors in establishing and growing their food business.
From the NYSSFPA newsletter:
Show & tell customers why your product is quality
Most customers see two jars of ketchup on the grocery store shelf and say "those are two bottles of ketchup." One is a national brand. One is gourmet. There's a $4 difference. But, how does the customer know what makes your ketchup $4 more. Do you use vine-ripened tomatoes? Are they local tomatoes? And what about your spices (we all know that national brand doesn't use a complex blend of spices). It's your job to communicate this to your customers. The challenge? The product in your container can't speak to your customers. Use your label, your website, and social media to show & tell customers why your product is premium priced.
...read more here...
This is what the NYSSFPA can do for you!
Provide access to new regulatory information
Provide Mentors for startups
Provide Member Information
Provide Technical Information and assistance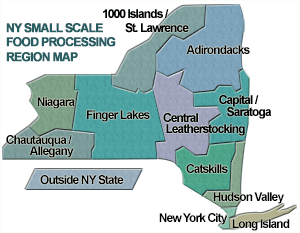 The NYSSFPA
is made up of 11 Regions across New York State, including New York City and Long Island.

Please click on the map to find contacts in your area.
Or you can locate a member or processor by region or product on our
Member Search page
or by using the drop down menu below.