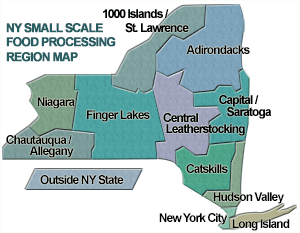 The SSFPA Members produce an amazing variety of products all across our great state. You can search by product category or region using the drop down list near the bottom of any page, or by region using the map to the left.



Categories
Administrative & Support, Baked Goods, Beverages, Candy and Confections, CCE Educators, Co-Packers, Dairy, Design Services, Ethnic Foods, Farms, Frozen Foods, Fruits & Vegetables, Herbal Products, Incubator Kitchens, Jams & Jellies, Maple Products, Meat, Fish & Poultry, Miscellaneous, Nuts and Grains, Pickles & Condiments, Prepared Foods, Sauces and Dressings

Regions
Adirondacks, Capital-Saratoga, Catskills, Central Leatherstocking, Chautauqua-Allegany, Finger Lakes, Hudson Valley, Long Island, New York City, Niagara, Outside New York 1000 Islands - St. Lawrence,

Member Name Search
Please submit your search request (letters only, no special characters allowed).
A few letters will give broader results, more will narrow it, and your letters can be anywhere in the name.
Case insensitive. Limited to 10 results.